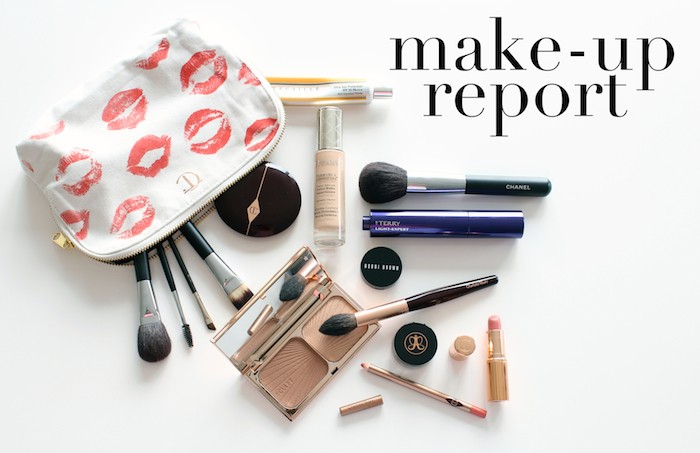 Today I thought I'd show you some of the new additions to my make up bag and also the ones that I use in my everyday routine, you can click the icons in the image to shop the products.
Chantecaille Ultra Sun Protection – Used as an spf and primer, applied with finger tips, By Terry Foundation (shade 7 Golden beige) – Applied with Chanel No.6 foundation brush, Bobbi Brown Concealer (pictured at the top) – under the eye area, By Terry Light Expert (shade 2 Apricot Light) – I use this on my nose, forehead and under eye to give more coverage and contour.
Charlotte Tilbury Filmstar Bronze & Glow – I love how you get two in one with this product, using the Powder & Sculpt brush I apply the bronzer to my cheek hollows, jaw line, temple and sides of nose and the highlight on top of my cheekbones, centre of nose and top lip.
Charlotte Tilbury Cheek to Chic in Love Glow – I like to use a blusher as it gives you a healthy colour to the cheeks, I apply this with my Chanel No.4 blusher brush to the apples of my cheeks.
Anastasia Beverly Hills dip brow pomade in chocolate – applied using the Mac No.266 angled brush and then combed into place with the Chanel No.11 Brow&lash brush. I wear eyelash extensions so I don't need mascara and I rarely use eyeshadows during the day, sometimes I wear eyeliner or pencils inside the lids and I have added them to my shop the post at the end.
Lipstick in Bitch Perfect and Lip liner in Pink Venus – I always like to wear a lipstick or lip gloss and will try to match the colour depending on what I'm wearing, my go to neutrals at the moment are these two by Charlotte Tilbury. I have found it hard to find the perfect nude colour and my search continues but this is a great in between of pink nude.
These are obviously not all the products in my routine but are definitely my favourites at the moment, click through the slideshow below to see some of the other items that I use on a day to day basis…
I'd love to hear some of the products you are using and could recommend, I am always looking to try out new products!
I hope you all have a lovely weekend and to my UK readers, enjoy Mothers Day x